The Folk Federation recognises that we are in a climate and ecological emergency and is trying to both reduce the environmental impact of our events and spread awareness.
One of the most important things we can do is raise awareness. Music, and particularly folk music, has long been an important means of raising awareness of important issues.
Please consider what you, as a musician, dancer, listener or organiser, can do to reduce our impacts, to raise awareness and to promote change.
There'd be no music on a dead planet.
Reducing Environmental Impact of Folk Events
Although folk events already have reasonably light environmental footprints, there's often room for improvement and nature needs all the help it can get. We encourage you to consider the following options to reduce environmental impact of our and other folk events. If you have any other ideas, please let us know, in person (the nicest way to communicate) or via email to folkdancetas@gmail.com or ringing 03 6273 2127.
When searching for events, use Ecosia (www.ecosia.org) rather than Google (and don't use the verb 'google' to mean search!) Ecosia plants trees when you search the web and has other advantages.
Choose more sustainable methods of transport, e.g., walking, cycling, car pooling, public transport or offsetting carbon emissions. Feel free to use our Facebook Page (https://www.facebook.com/folktas/) or Facebook Group (https://www.facebook.com/groups/dancefolktasmania/) to post offers or requests for car pooling/ride sharing or other sustainable transport information for folk events.
Reduce waste: refuse, reduce, reuse, recycle, e.g.,

For food and drink

Use reusable cups, glasses, plates and cutlery (bring your own or ask the venue to provide; the more people ask the more likely venues will make an effort)
Avoid as much packaging as possible, e.g., if bringing supper to a dance, make it yourself (e.g., slice up some fruit or make some biscuits or a cake) and bring it on a reusable plate
Choose recyclable packaging and actually recycle it. Look for an appropriate recycling bin or take it home and find one there. For soft plastics, see redcycle.net.au
Avoid clingwrap – e.g., see 7 reusable alternatives to cling film

Use washable tablecloths and napkins
Use cloths and towels rather than disposable paper towels

Offsetting and drawdown – see next section
Offsetting and Drawdown
Tasmanian marine permaculture project: Could we use support for this to quantify what would equate to a carbon credit. (The cost to offset one tonne of CO2 emissions). It would be important to advise people choosing this option that it is still in the research phase so will not directly go into offset right now. Having the mindset of Drawdown as opposed to offset was a reason for my choosing the following two websites.

Considering possibilities for carbon offsetting of our events and the associated travel emissions I recommend we support either Project Drawdown at https://www.drawdown.org/, or The Climate Foundation. http://www.climatefoundation.org/ Both of these groups are aware of and provide support to the Marine Permaculture Project. In comparison to the other Carbon Offsetting websites I viewed which appeared to be more ad hoc in terms of their projects, climate foundation and drawdown deal with the broad range of issues which are facing our ecosystems. Their focus is on the most critical projects that will achieve maximum drawdown in the shortest possible timeframes. As people become more aware of the need for urgent action I believe there will be a groundswell of support, they already have a long list of possible skills that people could offer pro bono. This will generate more leverage for our contributions and a general global awareness raising, lobbying and activiation of grass roots action.

It is worth noting that https://offsetmyemissions.com/ provides a user friendly way to calculate and pay for a flight, and the listed project, (forest regeneration in the Tassie Highlands) is certainly of local interest. I suspect it was listed a the project of choice due to the location function being turned on for my computer.

https://shop.southpolecarbon.com/en/category/flight provides a more accurate flight cost as is uses the actual locations for calculation of cost. South Pole is also the underwriter for the offsetmyemmisions website, it is a a very large scale organisation and claims to have high standards. At the very least either of these webites could be used for people wishing to determine an offset price which could then go to their prefered organisation, or as a quick calculate and pay option for the too busy to muck about types. Or there may be a project listed that has personal significance.
Music Declares Emergency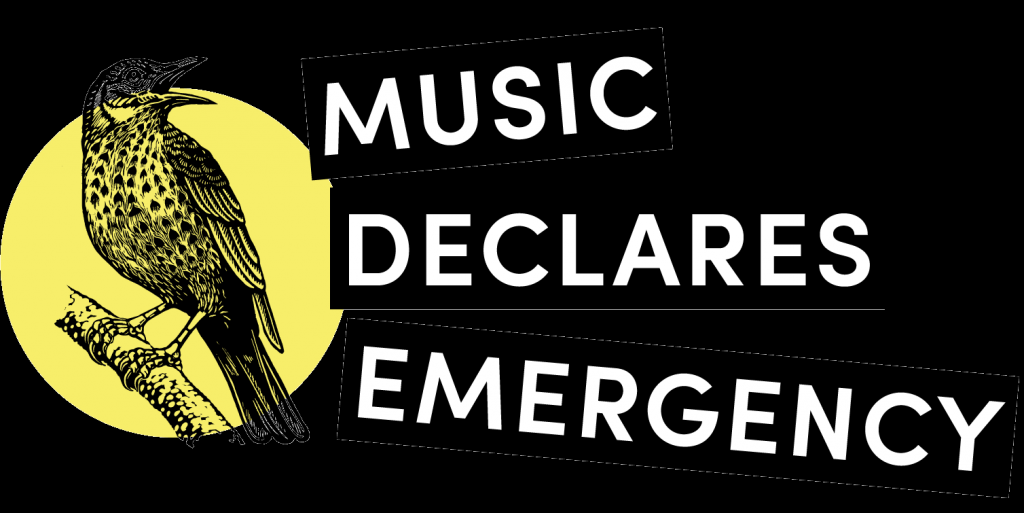 Music Declares Emergency is a group of artists, music industry professionals and organisations that stand together to declare a climate and ecological emergency and call for an immediate governmental response to protect all life on Earth. We believe in the power of music to promote the cultural change needed to create a better future.
Music Declares a Climate and Ecological Emergency.
We call on governments and media institutions to tell the truth about the climate and ecological emergency.
We call on governments to act now to reverse biodiversity loss and reach net zero greenhouse gas emissions by no later than 2030.
We recognise that the emergency has arisen from global injustices and will work towards systemic change to protect life on Earth.
We acknowledge the environmental impact of music industry practices and commit to taking urgent action.
We Will
Jointly support one another, sharing expertise as a collective industry and community.
Speak up and out about the climate and ecological emergency.
Work towards making our businesses ecologically sustainable and regenerative.