For the 2022 festival, click here. If you have landed here, from a later link, please try clearing your browser cache.
Saturday 24th Nov: Grand Regency Ball and Period Concert at the historic Hobart Town Hall
Sunday 25th Nov: Regency House & Garden Party, celebrating the 200th birthday of the historic convict-built mansion, Glen Derwent
Schedule of Activities at Glen Derwent
Grand Regency Ball and Period Concert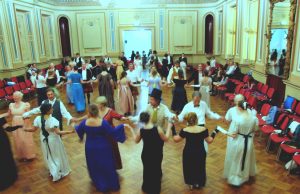 at the historic Hobart Town Hall (Macquarie St, Hobart, Tasmania)
SAT 24th NOV 2018
7:30-11:30
Fine period Tasmanian music by Van Diemen's Angels
Dancing Master: David Wanless
Tickets:
$25/ $22/ $20/ $15 (student or u/14)
trybooking.com/YIMI
or at the door. Booking advised.
All dances taught. No dancing experience or partner required.
All ages welcome.
Please bring a plate of supper befitting a ball.
Dress: Period or formal.
Optional workshop at the Town Hall, 2:00-4:00pm
Including Mundy's Quadrille
Learn some dances and steps before the ball if you wish. Amongst other dances, learn Mundy's Quadrille and if you desire, be part of demonstrating it at the ball. It won't be taught at the ball.
$8.
Supported by the City of Hobart.
Event page: https://www.facebook.com/events/1321363047998983/
Folk Federation of Tasmania Inc
Facebook/Meetup: Dance Folk Tasmania
www.folktas.org/regency
folkdancetas@gmail.com
6273 2127
Spirited dancing to fine music. Come to dance or listen and watch.
"Fine dancing, I believe like virtue, must be its own reward." — Jane Austen
Extra info:
The recently rediscovered Mundy's Quadrilles will be performed at the ball. This suite of quadrille music was composed by colonial artist Henry Mundy.
The ball will feature music by 19th Century Tasmanian/Scottish convict, fiddler and composer Alexander Laing.
Celebrate 200 years of Glen Derwent
Regency House & Garden Party

SUN 25th NOV 2018
10:30-4:00
A day of Regency activities, fine food and tea at the historic Glen Derwent Heritage Retreat, built c. 1818, 44 Hamilton Rd, New Norfolk, glenderwent.com
Hidden behind hawthorn hedges and set in five hectares of park-like pasture and gardens overlooking the Derwent River, Glen Derwent is a 200-year-old, convict-built mansion, classified by The National Trust.
Your ticket includes all-day delicious period sweet and savoury food and hot and cold drinks as well as Regency dancing, live music, croquet, historic tours, maypole dancing, horses and cart and period games. Details: folktas.org/regency. All weather event.
Period attire admired but not required.
Glen Derwent also offers heritage accommodation.
Tickets: $20-$49 trybooking.com/YIMI or at the gate. Booking helps us plan and cater.
See Regency House & Garden Party – Activities
glenderwent.com
stay@glenderwent.com
0427 480 057
folktas.org/regency
Event page: https://www.facebook.com/events/571646729958722/
Facebook/Meetup: Dance Folk Tasmania
Folk Federation of Tasmania Inc
Also: Sat 24th: Grand Regency Ball and Period Concert at Hobart Town Hall