Festivals, music, dance, sessions, tuition, places to play, advertising and publicity opportunities, etc
We advise you to check with the venues or organisers of regular events before travelling – sometimes sessions and regular events cease, change, or miss a week. While we give the latest information we have here, some of it may be out of date!
If you know that an event has changed, please let us know via email to news@folktas.org
There is so much happening for folk dancers throughout the state that the information is on a separate page. Click here to find out information about getting involved in folk dancing, dance bands and instructions for folk dancing.
Festivals
See the Major Annual Festivals and Events section of our forthcoming events page
---
South – Music
Every Monday, 5:30pm: Union Choir at Unions Tasmania, Elizabeth St, North Hobart (next to the Alley Cat). All are encouraged, no particular skill at singing is required, just an enthusiasm for singing and union history and solidarity (much needed in these times).  Come along and have fun warming up those vocal chords. — Peter Hicks.  Phone (03) 6239 1320.
Every Tuesday, 7 for 7:30-9:30pm: Mostly Acoustic Jam
Tune and chat from 
7pm for a 
7:30pm start, and finishing about 9:30pm
The JAM session is informal and open to new musicians at all skill levels.
For songwriters, creators and poets.  Bring your new song(s) to the session for a professional discussion.  For added excitement, write to the theme.  Contact: 0449 083 621 for details on venue.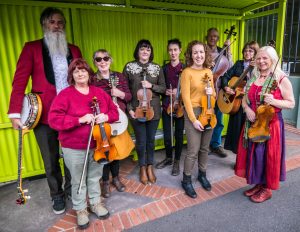 Every Wednesday during school terms, 5:30-6:30pm: Tasmanian Heritage Fiddle Ensemble
Contact: CC Thornley, carlos@thebsot.com, 0455 885 580, 03 6234 2829, thfe.org.au

First Wednesday of every month, Australian Bush Dance Tunes Session
Lenah Valley RSL, Lenah Valley Rd, starting at 7.30pm.  Bring your fiddle, accordion, squeezebox, mandolin or guitar etc.  We will have tune handouts.  The evening will be informal and all about participation. The format will be to go through the tunes, slowly and repetitively at first, so you can get familiar with them.  Contact 0418 138 939 or 0400 734 559.
Every Thursday, from 7:30pm, Hobart Old Time String Band
All Saints Lower Hall, Macquarie St, South Hobart
Bring an acoustic, stringed instrument and enthusiasm to join in with us and learn. Mostly American Old Time toe-tapping music, and other types too.
Contact 6273 2127; cathleen.hutchinson@gmail.com
Last Thursday of every month, Trad Session at the Fern Tree Tavern
Be great to see some familiar faces – and some new ones! Kick off around 8. Come along for a night of music! There's buses back down the hill quite late also.  Contact Luke Plumb.
Second Friday of every Month: from 8:00pm, mixed session at the Cygnet Supper Room, Cygnet
Every Saturday: 4:00pm to 6:30pm, Irish music session, New Sydney Hotel, Bathurst St, Hobart
Saturdays, generally fortnightly: 4:00 to 5:30pm, Huon Heritage is a community music group devoted to playing and teaching folk music sourced from around Tasmania. Anyone can come along…fiddles, mandolins, flutes, whistles..treble clef instruments as well as banjos, guitars, cello and bass welcome. The sessions are generally fortnightly. Held at Gadd's Cottage, second on the left, Walpole Lane Franklin.  We can supply notation, chord charts, and banjo and mandolin tabs. there will also be some teaching/learning of tunes by ear.
Contact: Steve Gadd <woden@bigpond.com>; 03 6266 3446
One Saturday per month, Franklin Folk Club
Upstairs, Palais Theatre, Franklin
Contact: Steve Gadd <woden@bigpond.com>; 03 6266 3446
First Sunday of the month, Sacred Harp Singing Group: Hobart Shape Note Singers.
St George's Battery Point Hall, 3-5pm. Cost: donation for venue hire.
We sing the original gospel tradition called Sacred Harp – 4 part harmony acapella gospel music from America's South. Shape notes are written on a musical score, we learn how to sing intervals and sing the notes on the scale 'Sol-Fa-La-Sol-Fa-La-Mi-Fa'– music is provided.We welcome people regardless of their background, beliefs or abilities. There are no performances, it is all for the experience of community singing!
Contact: Lisa Haynes – hobartshapenote@gmail.com to receive monthly email updates.
You can visit these sites to learn more: www.youtube.com/user/sacredHarpBremen
sacredharpaustralia.com  and   www.fasola.org
Facebook group: 'Tasmanian Shape Note Singers'
Third Sunday of every month, 2pm, Ouse Session: We are starting a regular Irish/Folk music session at the Ouse Community Hall.  The first will be at 2pm on Sunday 18th March 2012 and following, 3rd Sunday of each month at 2pm, unless otherwise notified.
The session is open to all musicians and beginners are very welcome.
Inquiries to Maureen Bennetts 0423 113 741.
North – Concerts and sessions
Every Monday: "The Folk Show", City Park Radio 103.7 FM, 11pm-12 midnight.  Launceston's only locally produced folk music program.
Last Tuesday of month: Jazz at the Royal Oak.  14 Brisbane St.  20% off main meals for FFT members.  Contact 6331 9653.
Third Friday of each month: Liffey Music Gathering (folk, blues etc.), at the Old School, Liffey, 8-12pm. Open fire and good music.  Bring a log for the fire, and some nosh.  BYO.  Tea and coffee available.  A gold coin will be requested each session to help meet hire and insurance costs.  Hope to see you there.  Contact: Patrick Gambles.  patrick.gambles@mvc.tas.gov.au
Every Sunday: Celtic session at the Royal Oak, Brisbane St, Launceston 5.00 – 7:30pm.  See facebook.com/groups/SessionAtTheOak. Royal Oak: (03) 6331 5346.
North – Things to learn
Launceston Recorder Society – ph Olga Trojan, 6343 3011.
The Society for Creative Anachronism (SCA).  Join in the current middle ages.  Contacts: Derek Binns  6344 2273, Kim Strong 6326 4256, Paul Harris 6327 1252.
String Powered Productions: CD mastering, digital recording, graphic design, web page design.Bill Myers 0409 – 013459 Email – info@stringpower.com
Updating these details
If you know of any other events or changes to the above details, please email updates to events@folktas.org.
Places for performers to play around Tas
South: Republic Bar & Café: 299 Elizabeth St Hobart 6234 6954
New Sydney Hotel: Alistair Derham, 87 Bathurst St Hobart 6234 4516 fax 6236 9965
Moonah Arts Centre: fortnightly series of concerts, 03 6274 0318.
North: Royal Oak Hotel, Brisbane St, Launceston. Bruce Potter 6331 5346
North-East: "Todd's Hall" at St.Marys. Phone: Astrid Hunkeler & Todd Dudley, 6376 1049
North-West : Bridge Hotel, Forth, near Devonport 6428 2239
Molly Malone's, 34 Best St.
Devonport 7310 6424 1898 McGinty's (Burnie Town House) 139 Wilson St
Burnie 7320, 03 6431 4455 fax 03 6431 1026 (sold recently)
See also our Venues Page