The Song Writing section of the Folk Federation of Tasmania's annual Song and Tune Writing Awards is named in honour of Mike Silverwood.
Mike was a folkie from northern Tasmania who worked a lot with youth in the criminal justice section. He was also the piano accordion player with the top northern band Rough Bark, who played for dances, concerts, benefits and rallies. They were fantastic.
He wrote quirky songs and tunes and had a great sense of humour. At a session with the Chieftains in Launceston, Matt Molloy famously asked who the chap was with the epileptic caterpillar, which adequately describes Mike's individual accordion playing.
He was also a regular contributor to folk events as a musician/singer in the north.
Mike also wrote the dance "Emu Bay Rd", about meeting people on the main road going through Deloraine.
You can hear Rough Bark at
https://soundcloud.com/rough-bark/sets/rough-bark-rough-bark
Long term friend Beth Sowter writes:
The wonderful Mike Silverwood passed away in 1994 from cancer. Mike was a member of Rough Bark, the great little bush music band from the Deloraine district, and was once noted by the Chieftains, at an after gig party in Launceston, as "who's that playing the epileptic caterpillar". Mike played an amazing piano accordion and was a larger than life, brilliant and gorgeous member of the folk community. So missed, even after so many years.
I named the FFT Awards after him in 1996 when I resurrected the FFT Song and Tune Writing Awards, so the Mike Silverwood Award for the best song is hopefully, still in existence and long may it remain so.
In the year following his diagnosis of "sorry mate, you're on the way out" he gave up his very good job in the public service and traveled the world, playing music and meeting great people, including my friends in Kenmare, Co. Kerry, Ireland. My friend Lise was opening her pizza restaurant in Kenmare and Mike turned up so she put him to work making stuff for the opening night. She would have loved his friendly, funny, whimsical humour and his compassion for all things and I just miss him so much.
Mike was greatly loved, greatly appreciated and is greatly missed, as a musician and as a wonderful human being. His wake was an amazing musical extravaganza in Meander with all the usual suspects from the northern Tasmanian folk scene, including Kerry Cantlay, Kim Booth, Eddie Tuleja, myself, Alex Myers, hell….. all the best musicians from up this way as we farewelled one of the finest and loveliest folkies of this century.
I miss him still, and I hope your correspondent is not sad so much as empowered by the force that this man engendered in us all to continue to play live music for the dancing and for enjoyment and to live life to the absolute max.
Long live the wonderful memory of Mike Silverwood and long may the FFT continue to honour him with the Song Writing Award each year.
Alex Myers adds:
I spent a few months filling in on fiddle in Rough Bark and got to know Mike a little. Mad rehearsals and performances and so much travelling.
He was an amazing musician with a great sense of humour, and he lived life at a very fast pace, burning the candle at both ends.
After he was diagnosed with cancer and went into remission, he decided to travel the world. I got postcards from Ireland and Constantinople.
Sadly, about a year later, the cancer returned, this time to claim him.
He was such a bright spark and the folk scene is poorer without him.
I've just remembered that I've got a tape of Rough Bark, so here's a scan of the cover pic. Mike is seated second from the right with Ross Peddlesden and the bodhran next to him.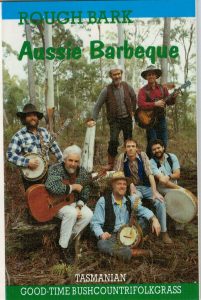 Mike Silverwood was a song and tune writer himself, writing quite a number of tunes for Rough Bark.
Kerry Cantlay wrote, in the Folk Federation's magazine, Drumbeat, Sep. 1994:
The 18th June, 1994, saw the sad passing of accordionist extraordinaire, Mike Silverwood. He went peacefully in the end after a hard fight and left a large hole in the music scene in the north. It was the first time I personally witnessed laughter among the mourners at a funeral, but laugh they did to the strains of Mike's rendition of his song "I like living here in Deloraine". His wake was just what he would have wanted; musicians playing, singing and raging against the dying of the light. I still look over my shoulder on stage expecting to see him cavorting with that monstrous Scandali. Would that it could be so.