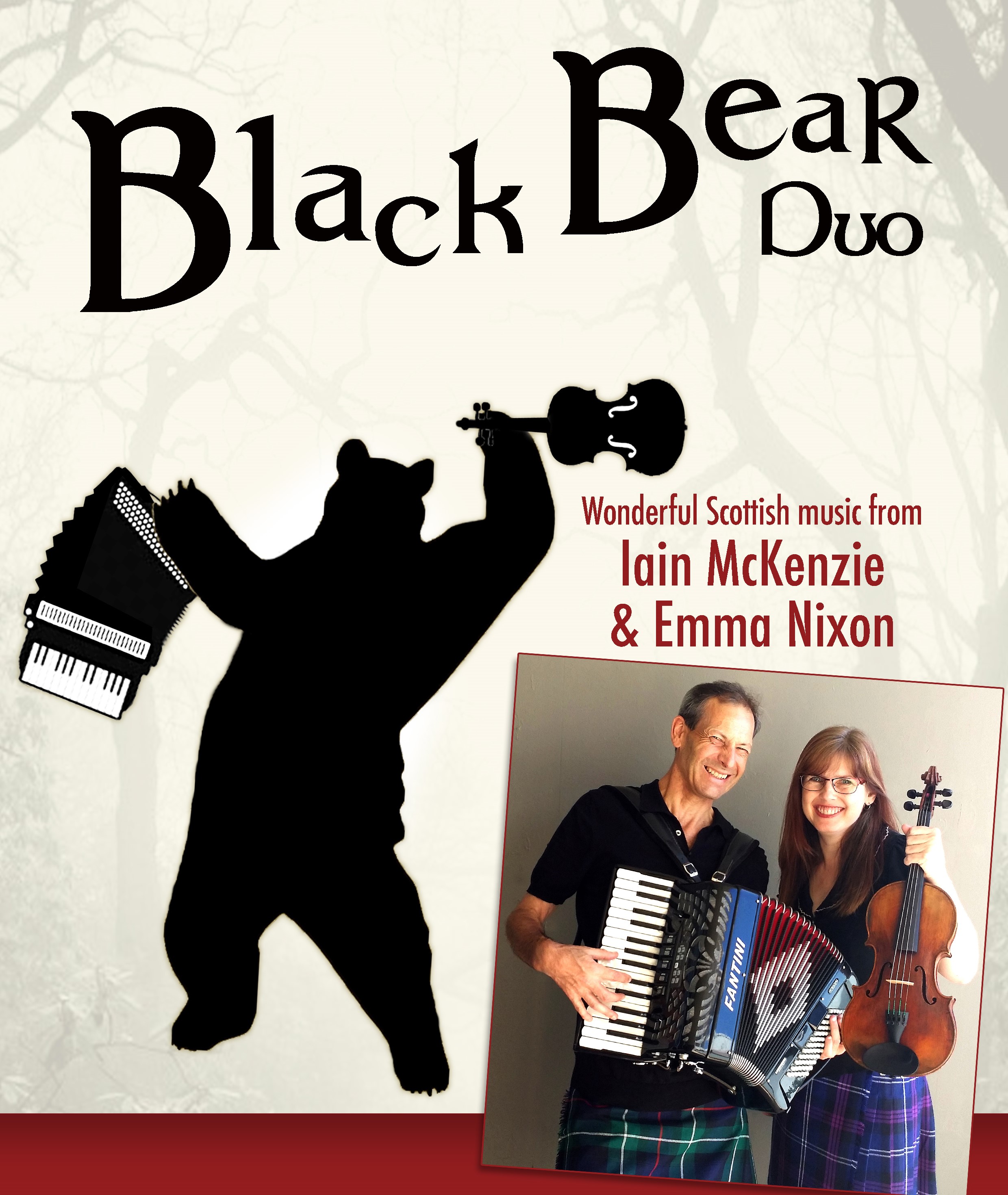 Folk Federation of Tasmania Inc presents
BLACK BEAR DUO
in Hobart
Wonderful Scottish music from
Iain McKenzie & Emma Nixon
Sat 25 March, 2017 – Wild Ceilidh Dance, 7:30pm, Tickets $17/ $15 conc/ $14 member/ $8 student
Sun 26 March – Scottish Music Workshop, 2pm-4pm, $25, limited spaces
Fri 31 March – Scottish Concert, Hobart, 7:30pm, $20/$18 concession/member
All events: Wesley Hall, 58 Melville St Hobart
Tickets: trybooking.com/NVEX or at the door
Contact details:
Folk Federation of Tasmania Inc
www.folktas.org/blackbearduo
folkdancetas@gmail.com
6273 2127
Facebook: dance folk tasmania
Spirits soar and feet fly when Iain Mckenzie and Emma Nixon join forces to play fabulous Scottish music for balls and country dances, ceilidhs and concerts. They bring together a deep love of Scottish music and years of experience playing for dances. Their combined passion for performing traditional and contemporary Scottish music creates their signature exciting and individual style.
Bio:
Emma Nixon and Iain Mckenzie teamed up some years ago to fuse the powerful mix of box and fiddle, forming Black Bear Duo. Their combined passion in performing traditional and contemporary Scottish music has created an exciting and individual style. The versatility and musical ability of the duo means Iain and Emma are well established on the music scene and known by audiences in Australia and around the world playing for Scottish dances, ceilidhs and concerts and hosting musical workshops.
Emma is a star of the fiddle scene in Australia, both as a musician and teacher. Her first solo album, Chasing the Sunset, won a Golden Fiddle Award in 2012, and she has received two Golden Fiddle Awards for Best Teacher (2010, 2011). Emma combines the strength of both classical and traditional music in her inspiring fiddle playing, while remaining true to the soul of the music.
Iain was brought up surrounded by Scottish music and dance, and through his Scottish origins is a natural box player. He has travelled extensively and has a strong interest in music from around the world, drawing on other traditional influences to provide a uniqueness in his music. Iain is also a composer of traditional tunes – including lead tunes for dances – some of which have been recorded by others or feature on the new CD.
The recently recorded album, Black Bear, is a true reflection of the Black Bear Duo and their passionate interpretation of the music. The CD brings out the best of the duo and highlights their combined musical energy. Traditional foot-tapping sets are intertwined with the emotional delivery of Scottish airs, applying individual arrangements that keep the music interesting.
Black Bear Duo are truly a force in traditional Scottish and celtic music.
http://www.emmanixon.com.au/blackbearduo/
Ceilidh info:
Ceilidh ("kaylee") dancing is the Scottish equivalent of Australian bush dancing — vigorous and fun. Originally the word Ceilidh ("kay-lee") descended from the Gaelic word for 'gathering' or 'party'… However, these days when people think of a Ceilidh, they think of a fun filled night of wild dancing, good music and great company!
Everyone can take part in a ceilidh, young or old, beginners or experienced dancers and even those with two left feet!
You don't need to bring a partner. All ages are welcome.
No experience is necessary! The dance caller will be with you every step of the way – walking you through the moves before each dance and continuing to call out helpful hints throughout the rest of the dances.
Please bring some supper to share. Light refreshments available.
See you on the dance floor!